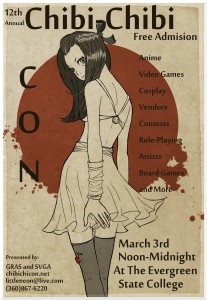 Thanks to the last minute notice from a new friend of mine, I was able to attend the Chibi Chibi Con this year. It's without a doubt the closest con to my house, a scant few miles up the road to Evergreen State University. So last Saturday I packed up the family and we drove over to have a look.
The Evergreen campus is really wonderful. While I imagine being a student it must feel very isolated, the drive through the evergreens is incredibly calming. The campus itself seems very beautiful. The architecture is modern without being monotonous, and the campus was clean without feeling sterile.
Chibi Chibi Con is a small convention put on by Evergreen's anime club. Truth be told, it's barely a convention, and feels more like a glorified ASB event than it does a convention, but like many student run events, what they lack in professionalism they make up for in enthusiasm. Given the modest size of the convention it was overrun with cosplayers. There were, in my estimation, more people dressed up than there weren't. We even saw what we suspected were Scandinavia and the World cosplayers! It was pretty nice, but they had fingers so I felt that they weren't too serious about their costumes.
The Con itself consisted of the entrance hall of the library and a handful of rooms showing anime and hosting video games. The main vendor room consisted of roughly 20 tables selling wares of various degrees of professionalism. There was one vendor who was clearly the professional Japanese tchotchkes store, with a great variety of plush, key chains, stickers, pillows, backpacks and figures. That booth was pretty packed the whole time we were there, and on my second trip around the con I scooped up a paragoomba keychain for myself.
There was some original art, but most of the artists weren't as established as I'm used to seeing. One table sported something pretty professional looking. It turned out to be Children of War a comic written by a former Marine, but he didn't appear to be selling anything, just promoting his comic, which is available for download from iTunes (he was also the only table with a State of Washington business license displayed).
Many tables were doing sketches, comics or second-hand toys. On our second lap we stopped at the inner loop and my son correctly identified Azula in one of the postcards for sale and won himself a free postcard from the very generous TalisX.
In all I had a good time at the Chibi Chibi Con, though I did feel a bit out of place. It's my first con since SDCC and certainly my first time at one that small, it made APE feel big. But, my hope is that by this time next year I'll have the major arcana finished and printed, have a nice stock of stickers and prints and be able to sit down at my first con as a vendor and be one of the people behind the tables.
Next up on my list is the Emerald City Comicon at the end of March with the family, and then Sakura Con the weekend after that. Don't forget that I'll be handing out stickers to anyone who can find me in the Con. I'll be wearing my Chibi Tarot Sun shirt (that I'll make soon, I swear!).
PS – Some chibi music as a reward for those of you who made it this far!
PPS – Temperance will be posted here on Thursday!