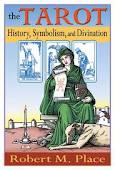 I ordered some new Tarot books from Fields Book Store last week and they arrived yesterday!
The first pair that I ordered was the Robin Wood tarot deck and book. I'm not sure how I'd never noticed the deck before, but I was really drawn to Wood's style. Her evocation of the tarot is, first, illustration, which I'm a sucker for, and second, is evocative of the fantasy aspects that are inherent in the tarot. Lastly, it's also reminiscent of comic books, which I'm looking forward to addressing in another post. The book seemed like a no brainer to accompany the deck.
Second, and perhaps more exciting for me, is Robert Place's The Tarot: History, Symbolism, and Divination. After having read the introduction and a bit of the first chapter I'm very excited for this book. It appears to be a scholarly, grounded approach to the history of the tarot, dispensing with any of the Egypt nonsense, and intent on exploring the real medieval roots of the tarot and the symbolism inherent in its origins, which I find exciting, since the roots of the tarot really interest me, as you can see from the way that I dealt with the Magician. I suspect that this book will become a close companion to Rachel Pollack's 78 Degrees of Wisdom (which I still haven't finished) as essential tarot reading. Lastly, tho' I didn't order this from Fields, I also discovered an old copy of Paul Foster Case's The Tarot: A Key to the Wisdom of the Ages, which I must have purchased just before I left Oakland 3 years ago, and then put into storage. So, very exciting reading in front of me. I'll keep you updated on how it comes along and what I take away from each book.